5 DIY Home Decor Ideas for a Modern Rustic House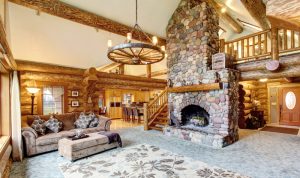 In today's digital age, sometimes it's nice to have a cozy, rustic escape without having to head for the hills! Modern rustic decor can turn your home into just such a retreat, and you won't even have to hire a contractor to achieve it. Check out these five DIY modern rustic house Home decor ideas for bringing a touch of rustic class to your home.
Reclaimed Wood Accent Wall
Reclaimed wood is having a moment in the design world, and it's easy to see why. Wood rescued from old barns brings instant character to a room with its warm, weathered look and natural color variations. Many flooring and home improvement stores now sell reclaimed wood that's ready to be cut to length and used for all kinds of projects, like adding an accent wall. To do this project yourself, you'll need a pressure washer and a band saw.
Neutral Color Palette
If you're not quite ready to commit to a textured accent wall, you can still get a rustic look with a new coat of paint. Traditionally, rustic decor relies on dark, warm earth tones, but these can sometimes feel claustrophobic. Instead, opt for slightly paler shades in natural tones, like slate or sand. These will still bounce light to make your space feel large and airy while playing well with your rustic decor.
Rustic Furniture Makeovers
Have a side table or cabinet you love, but it doesn't fit with your new decor? Make it over with distressed paint! There are several paints designed to be easily distressed, such as chalk paint, which has a matte texture and can easily be layered and sanded through. This gives your new furniture a vintage look that wouldn't be out of place in an old-fashioned farmhouse. To do this project yourself, you'll need paint supplies and sandpaper.
Sliding Barn Doors
Trendy and practical, sliding barn doors are a great way to make a statement in even a small space. All you'll need is your hardware and chosen doors, which can be easily adjusted to suit your space. Opt for doors with glass inserts to keep your space bright and open, or use darker reclaimed wood for a touch of masculinity.
Rustic Hardware Swaps
This DIY trick couldn't be easier! Swap out your cabinet hardware for heavier, darker versions that resemble cast iron or aged brass. These metals lend a handmade touch—no one needs to know you picked them up at the local hardware store!
Creating your rustic getaway doesn't require a cabin in the mountains or even a big budget. With just a few simple changes, you can take your decor back to a simpler time—without sacrificing your modern comforts.
For more lifestyle articles and DIY projects, explore our blog!
References:
Artisan Hardware | Barn Door Ideas: Where to Put Your Sliding Barn Door
Joyfully Growing | How to Build a Wooden Plank Accent Wall