Prep Your House for Christmas with These Fun Decor Ideas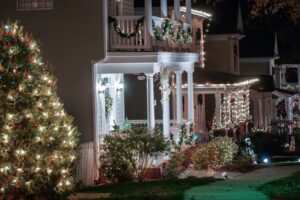 Looking for the perfect ideas for decorating your home for the Christmas holiday? Look no further. Here are some fantastic and fun ideas that you can implement to Prep Your House for Christmas and give your home a warm and cheerful look during this season.
Group Your Silver
Turn your Christmas decoration into Hollywood elegance by arranging your silver into a group on the mantelpiece or a decorative table. Match and mix metallic finishes by grouping all the metallic dishware or decorations into a single group. Arrange mercury and silver glass vases and candlesticks in a cluster to turn them into festive Christmas accents.
Light a few candles in the middle of the cluster to reflect light from the metallic surroundings. You will attract a lot of compliments and attention with this idea. Use some bright red Christmas berries like Nandina and Holly berries to add a pop of color to the arrangement.
Paperwhites in Your Kitchen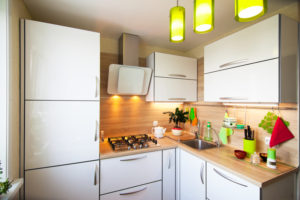 Image Source:www.whiteflowerfarm.com/how-to-grow-paperwhite-narcissus-bulbs
There will be Christmas cheer in your kitchen when you include beautiful paperwhite flowers. Snow-white paperwhite flowers can be placed in any room or kitchen to add casual Christmas charm. Using glassware, pebbles, and paperwhite bulbs, you can implement this idea.
Paperwhites can be grown in water and pebbles, thus requiring no soil. Create the arrangement by putting paperwhite bulbs in shallow bowls and glassware. The shape and size of the bulb make them ideal for a breakfast table or a kitchen countertop. Moreover, they are part of a group of the easiest growing indoor plants.
A Warm Welcome
Use a brilliant arrangement of paper luminaries to light up the Christmas season. Scatter them on the porch or line them along the driveway and the front walkway. Luminaries can be bought pre-made in bulk online, or you can use white paper bags, LED candle lights that are battery-powered, and pebbles to make your luminaries.
Put the pebbles inside the paper bag at the bottom to prevent it from falling or blowing away. Use your hand to clear a place inside the paper bag for the LED light to rest. Now you have a glowing luminary that can light up your front walkway.
Pile on the Plaid
Image Source: www.ethereumlitemining.org/buffalo-christmas-decorations
You can have an old-school and a classic take on holiday cheer by using a plaid theme on your decorations. Mix and match different scales and sizes of plaids to avoid overloading on a single pattern. You can use a simple plaid garland with solid-colored, metallic ornaments for tree decorations.
An easy and budget-friendly way to include plaid into your Christmas is by using it to wrap the gifts under your tree. Use two to three rolls of gift wrap with plaid patterns and one or two solid patterns with colors that complement the gift wrap. Mix and match ribbons on every gift for a presentation of presents that is layered.
Welcome with a Garden Theme
Use a holiday decorating scheme that is garden-inspired to give off a cozy cottage themed welcome. This theme is casual and includes an arrangement of rustic aluminum containers on the stairs, raised porch, and front door. This decorating idea works well for both the back and front porches.
Put holiday herbs inside the containers to add cheer to your garden-themed decoration for Christmas. Common Christmas herbs to grow are thyme, sage, basil, oregano, lavender, spearmint, bay leaves, tarragon, lemon thyme, borage, chervil, and myrtle. Add bright color through the planting of red berries and amaryllis blooms.
Merry Mailbox Topper
Spruce up your front yard this Christmas season by using a bouquet of winter plants to top off your mailbox. These winter plants include rosemary, lavender, fir, cedar, flowering cabbage, and pansies. You can trim your bouquet to look like a Christmas tree, adding spare ornaments in colors which contrast with those of the plants. Use pinecones to add texture and to fill gaps and add a satin bow to the mailbox as a finishing touch.
Outside Lights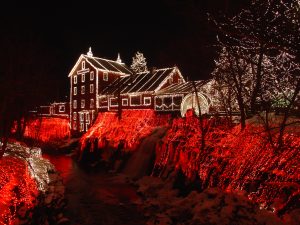 Image Source: www.zingidaho.com/holiday-lights
Putting up holiday lights of various sizes and shapes on the exterior of your house? Aside from the traditional lights around the roof and dormers, use lanterns and candle sconces around your doorway for a bit of a mismatched, fun look. As a particularly easy option, consider using a holiday laser light projector to create an instant light show. You can even find some varieties that create fireworks light patterns.
You also have the option of wrapping lights around the bushes and trees you have in your yard. If you have pine trees, take advantage of the opportunity to decorate them with lights and ornaments that can handle wintry weather.
Happy decorating!
For more home decor ideas, check out more articles on our blog. And to gear you up for all the fun decorating you'll be inspired to do, check out our tool selection!