Safety and Sanitation: Jobsite Safety during Winter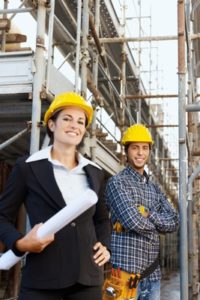 Construction projects do not stop during the winter. Contractors and other jobsite managers must balance productivity with jobsite safety during the cold months. You might have to deal with everything from sub-zero temperatures to blizzards on a regular basis. Winter safety on construction sites is a priority because injuries or accidents can stop an entire project. Here are ways to keep jobsites safe during winter:
Supervisors should inspect the site every morning for potential problems and keep a running list of observations. Some problems may have immediate solutions, while others will need to be managed throughout the winter.
Managers should ensure that all workers know the signs of frostbite and other cold weather-related injuries, so that assistance can be provided as soon as possible. In the event of a medical emergency, contact information for the nearest hospital should be on speed dial. It may be a good idea to require all employees to add the hospital contact number to their contact list.
Paths on construction sites should remain clear, and get sprinkled with salt if snowy conditions are expected.
Clearing snow on a jobsite should not create more problems. Piling up the snow can be more convenient than melting it, but if the pile is too high, it can block the line of sight for important signals or views that workers need.
Note probable locations for the formation of icicles that can fall and cause injury. Inspect these locations regularly and remove icicle buildup with care.
A portable, heavy-duty heater like this forced air kerosene heater can be used to provide warmth. This model has smooth rolling wheels and wrap around handles, heating up to 3,000 square feet. While useful on construction sites, heaters can also create hazards. Managers should be aware of these potential dangers and relay warnings to all crewmembers.
Heaters that were used last year should be inspected prior to usage again this season, to ensure proper operation. Place heaters on a sturdy, fire-resistant surface and make sure hoses are protected from damage and excess heat. Keep combustible materials at least 10-15 feet away from heaters.
Keeping a jobsite safe during winter means being proactive about potential problems. Contractors and jobsite managers should plan ahead, so that workers can continue to work comfortably without major problems occurring on the jobsite.