Handyman Help: Install a Porch Swing
A porch swing is an attractive feature for many homes – it is a symbol of leisure, and reminds us to stop and smell the roses every now and then. Installing a porch swing also gives your family an additional outdoor gathering space. Many swings come pre-assembled so it's just a matter of the family handyman attaching it to the porch.
Before starting the installation process, consider the features of your porch swing. Is there a one-chain mounting system or multiple? How many friends will you need to assist in order to hoist the piece into place?
Also, gather your tools before you start the heavy lifting. You will need a level, a ladder, a socket wrench and sockets, screwdrivers, measuring tape, and a pencil.
Next, measure your porch for the swing arc to ensure there is plenty of room for the back and forth motion. Decide where you want the swing, hold the measuring tape on that spot on the ceiling, extend the tape the length of the swing itself, and swing the tape. If it does not hit anything in the front, back, or sides, your location is good.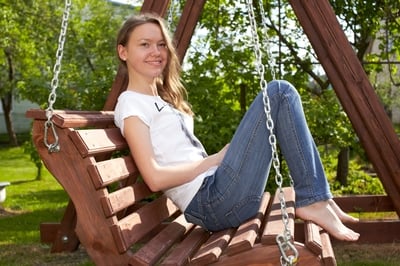 For single chain porch swing installation, find a stud for placement as the weight of the swing from a single point can cause damage to the structure of the home. For a double chain porch swing installation, additional measuring is required to place the chains properly to ensure the swing has a straight presentation.
If you have a swing that is already assembled, optimize the installation process in the following way:
Measure the space where the swing will be placed to ensure there are no obstructions for the back and forth movement.
Mount the chain or chains in the proper space, taking consideration that there will be space needed on the sides for the char portion. There should be no slack in the chain.
Hoist the swing onto the chain and bolt it down. The swing can be removed off of the chair for adjustments if necessary. It is challenging to fix the chain holes in the ceiling, so take the time to get that step right.
Enjoy the changing of seasons on your new porch swing, and improvise according to weather. On warmer days the whole family can enjoy relaxing afternoons drinking lemonade, while blankets and hot chocolate can be staple items on cold days.