Building the Ultimate Man Cave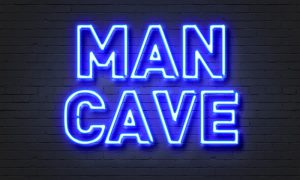 What Is a Man Cave?
Before we begin building the ultimate man cave, we have to understand what it is. Is it a fortress of solitude? Is it a place to hang with the boys? Is it a clubhouse? Is it a place to escape? It actually can be all of those things, but if you DIY, it can be nearly anything you want it to be.
Remember that childhood dream you had of building a tree house and decorating it however you wanted? The man cave is your grown up treehouse. Make it whatever you want. Unless you want it to be a rocket ship. It probably can't be a real rocket ship. But it can look like a rocket ship though, if you want it to, and that brings us to the first step of building the ultimate man cave.
Choosing the Perfect Theme for Your Man Cave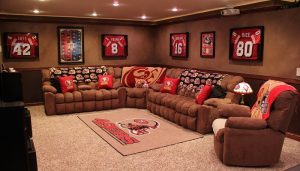 Image courtesy of Dude Living  
You don't necessarily have to have a theme, of course. You could just pull together a hodgepodge assortment of beat up furniture, stick a flat screen in there, and call it a day as you sip a lukewarm beer and remind yourself to refresh the duct tape patch on the arm of your old chair. But you want something better, don't you? You like to build things. You like that "cave man who just made fire" sense of accomplishment you get from making something with your hands. And besides, if a man cave is meant to be anything, it's meant to be fun, a place for you to express yourself.
You can be the captain of your own pirate ship with a nautical, steampunk theme. Some disguised shelving units and a hideaway TV lift cabinet can turn your man cave into a spy's secret bunker. Make your space into an old-school gentleman's club with leather chairs and a roll top bar. Or maybe you want to create a pool hall feel, with a billiard table, stained glass lighting and neon signs on the wall. Futuristic metal shelving and light up buttons, paired with silver furniture and recessed lights can get you that rocket-ship look we talked about.
Decide what your theme is first, and then you're almost ready to start buying and building items to match that theme. You're almost ready, but not quite.
Decide What You Want to Do in the Man Cave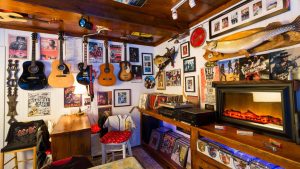 Image courtesy of Atlas Obscura
Now that you've picked a theme, if you aren't ready to start buying and building, then what's next?
The next thing to do is decide the full range of functions you want for your man cave. Is it just going to be a place to watch television and play console games? Will there be a bar? Will you have books or other hobby items on shelves? Will you have a refrigerator in the room? Do you want separate areas for different activities? How many guests are you realistically going to host at one time on a regular basis?
Make a list of every activity you would like to be able to do in your space. Some of it might not be feasible in the room you have to work with, so try to stick with the things you want to do the most.
You probably have quite a few ideas in mind for man cave activities, but here are some examples of solitary and buddy activities that might help you maximize your man cave fun. A couch and television can be used for playing console games, as well as for a home theater for movies and sports. It's also excellent for napping. Your man cave can be a game room, where you play anything from poker, darts, and shuffleboard to retro table top and board games. If you're more cerebral, you could turn the space into a home library or a place to showcase your collections. If you're a fan of fine spirits, put in a wet bar. Build shelving to display action figures, sports memorabilia or comic books. You can have a mini gym or set up a mechanical and electronics tinkering station for small home repairs and improvements. If you're musically inclined, trick out your stereo or set up a musical instrument jamming area.
Dividing out the Man Cave Space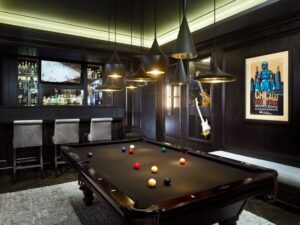 Image courtesy of Quedos Billiard Tables
Once you know what you want to do there, you will need to section out areas of your man cave for each activity. Some areas can serve multiple functions, so if all you want to do is watch TV, play console games, and eat in your man cave, you'll only need one main space to house the furniture, television, and possibly a fridge with TV trays. If you mainly plan to play poker, the same applies. You'll only have to have a table and chairs, with no real need for other areas. If you want a more diverse style of man cave, however, you will need to plan ahead.
Let's use the pool hall theme as an example of how you might need to divide the cave space. For that style of a room, you're going to need a place for the billiard table which has ample room for making all the tricky shots you might have to make. If you don't leave enough space around the table, you will end up hating your pool table, your friends, and your man cave. Make sure you have the floor space to pull it off. Also, make sure there is nothing breakable nearby that a billiard ball could potentially destroy if it flew off the table.  
Despite how fun a pool table is, you're eventually going to want to sit between turns. You might also want a small table to put drinks on or possibly even eat snacks from. So in addition to the billiard table, you will need a little corner or alcove in which to place a table and a couple of chairs. If you want fast, easy access to chilled drinks and snacks, you will have to make room also for a fridge, and a shelf for plates and glasses. Is pool the only game you will want to play? Or will you have a dartboard too? If so, you will need to have ample space for that as well.
Fill and Build the Man Cave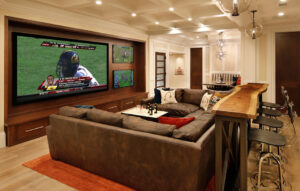 Image courtesy of Decoist
Now that you've planned it all out, the time has finally come to get the furniture and toys for your man cave. From the TV to the art on the walls, every piece is important.
When you're looking for furniture, more important than theme is comfort and ease of clean up. You'll be spending a lot of time there, and your cave might be a rowdy gathering spot. Also, while a giant TV is tempting, you really only want a television that's right for the space. Get a large one, by all means, but don't take up a whole wall with a TV when you're sitting three feet away from it. If you've ever sat in the front row at the movies, you'll understand why not.
If you don't want hot nacho cheese on your classic comic books, build shelves which are either out of the line of fire or have firmly-closing doors. Put your collectibles out of harm's way, but also where they can be enjoyed.
If you build some of the furniture and shelves yourself, you can really take your theme next level and craft the ultimate man cave of your dreams. So if you've got the skills, the next time you watch a space movie, it could be from your very own rocket ship deck.