Creative Ways to Use Holiday Decorations After the New Year
Decorations and holiday supplies can sometimes cost a small fortune. Once the holidays have passed and all the decorations come down, don't toss everything in the trash. Use your scraps or untouched items for creative arts and craft projects that can be completed throughout the year. Lights, wrapping paper, bows, and wreaths are just a few of the items that can be repurposed. Below are some fun ways to use your holiday decorations after the New Year.
Don't get rid of your dead bulbs. Use the base of an old wreath to create a colorful, bulb-inspired piece to hang on your front door for Valentine's Day, Easter, or even 4th of July. Another option for bulbs is to dip them in glue, cover them with glitter, and use these sparkly creations as the centerpiece in a clear vase dinner parties.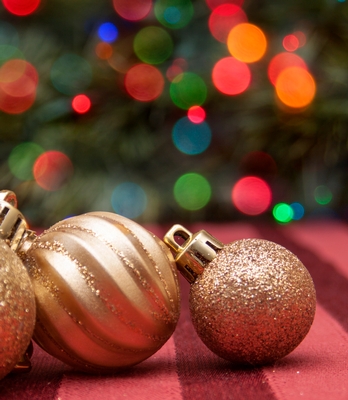 Use holiday cards to create gift tags in the appropriate letter, or in a shape that has special meaning. For example, use an old card to outline the shape of an airplane when giving friends or loved ones a going away present. Holiday cards can also be turned into bookmarks for personal use, to give away as gifts, or donations to charity. Allow your little ones to create their own bookmarks, which they can feel proud of using in their books.
The holiday season usually means bauble galore. Use these ornaments to create a stunning chandelier to hang over your dining room table or a child's room. Using leftover ribbon, allow the ornaments to hang dramatically over your chosen location. This is sure to be a conversation starter all year long. Task your kids with choosing colors and stringing baubles for the chandelier.
Hang white lights behind the curtains in your bedroom to give the room an ethereal vibe. Another easy DIY project is to drill holes into a canvas board and insert holiday lights for a beautiful display. Purchase your drill at EquipSupply.com. Another idea is to insert strings of light into empty wine bottles to create wine bottle lamps. Use them for social events, or give them away as personalized gifts.
Do not automatically throw away wrapping paper rolls. Use them for storing miscellaneous bows, ribbons, tissue paper, etc. Carefully place your holiday lights inside the tube until next year. Or to make sure the bulbs do not become tangled, wrap the strand around the roll and secure carefully with tape.
Another classic craft project involves using wrapping paper (either leftover, or received on gifts) to try out different origami techniques. Kids can make cranes, snowflakes, flowers, and other folded decorations.