Tips for Setting up Holiday Lights Outdoors for Newbies
Decorating the house and yard with lights is a common holiday practice for many families. Whether you're a novice to the process or just increasing your efforts this year, there are some tips you should be familiar with before getting started. Hanging lights in and around your house is a process that can take as little as an hour, or as long as a few weeks. Here are tips for our weekend warriors for getting your outdoor holiday lights set up over the course of a few days.
Before even opening the first box of lights, you should have a game plan. Pick a starting point and visualize how the lights will flow from that spot throughout the rest of the yard. This will allow you to coordinate the perfect colors and styles of lights for the areas you plan to cover.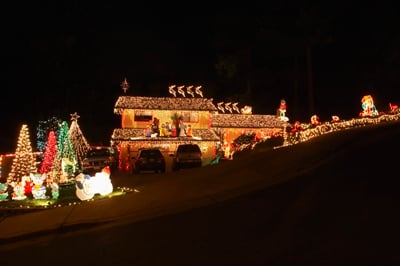 While coordinating your layout, check all the surfaces you will be using to determine if they are thick and stable enough to support your lights. Some of the most common spots for hanging holiday lights are bushes, trees, rooflines, pillars, posts, around windows and door frames, and near pathways.
Next, make sure the extension cords you plan to use are UL approved – designed and manufactured to meet industry specifications for safety. The lights you plan to use outdoors should say so specifically on the box because they contain more insulation than indoor lights.
Prepare your lights. Plug in each one before hanging them outside. Check for frayed or damaged bulbs. All sockets in the string should have bulbs. Damaged strings are a fire hazard and should not be used.
The equipment you need will depend on how high you plan to go to position your lights. Ladders are available at EquipSupply.com – just be sure that you've got the right ladder for the job. Do not use staples, nails, or screws to hang holiday lights. They can pierce the electrical wires and create a safety hazard. Use lightweight clips instead.
Once you have completed your outdoor light setup, set a timer so the lights do not remain on all night. Also, turn them off when you leave the house to reduce the chance of fires.
After the holiday season, remove your exterior lights within 90 days to prevent weather damage. Store the lights safely by wrapping them around a stiff piece of cardboard to keep them intact for next year. Prevent bulb breakage by wrapping them with soft fabric.