It's Time to Charge Back to School!
It's time to go back to school after a school year of mostly e-learning. Most schools have transitioned to using tech instead of textbooks such as Chromebooks and ipads. With that comes the daily need to keep these devices charged every night after homework. Kids have a hard time being responsible as that's a taught skill and may forget to keep their school devices charged.
What's a teacher to do when their student brings back a drained Chromebook or iPad to school? You have to charge it. Sometimes more than one student forgets. That is when a charging station comes in handy. You can buy the expensive stations or make your own.
Wall File Organizer
There are different ways to do this method. A wall file organizer made of fabric is a lightweight option. Grab wall hooks such as our Monkey Hooks to secure your fabric file holder to the wall. Another version of this method is a metal file organizer. This sturdier option can handle heavier tech, such as the Chromebooks. Fabric wall organizers and EasyPAG 8 Pocket Wall File can be found on Amazon.com .
Desk File Organizer
A desk file organizer as a charging station is an option if you can't or don't want to mount your station onto a wall. A metal file organizer for the desk can hold your kids' devices and have a power strip right next to it. For an inventive and cheaper organizer, use a dishrack! The slots you use to put your plates for drying are great for Chromebooks or ipads. You can lay a power strip inside the flat portion of the rack to save space on your desk.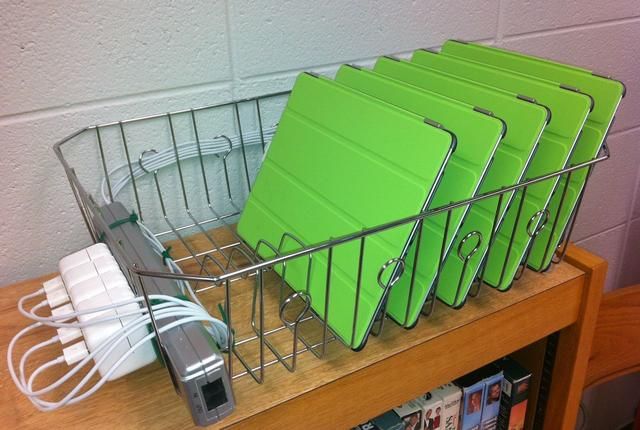 These ideas are not only great for the classroom but home as well! Having a nice charging station to lay down the tech keeps you going and organized.